FREE Bluebeam Revu Toolsets
After months of working on these FREE Bluebeam Revu Toolsets, they're finally available for download. From Appliances to Weld Symbols and everything in between. Some of these tools are similar to what others are offering for free downloads, however, I put a lot of time updating colors, adding layers, correcting and applying scales, and even adding some new tolls. These should be easier to work with and may even introduce you to some functions you're not currently using or even aware exist.
Here's a list of the 57 Toolsets which contain 1615 new or updated tools:
Appliances Plan View
Appliances Elevation View
Compressors
Doors
Electrical
Electrical/Telecom
Fire & Life Safety
Flags
Furniture
General Markups
Heat Exchangers
Home Furniture
HVAC Duct Symbols and Devices
HVAC Heat and Power Devices
HVAC Heating and Ventilation
HVAC Refrigeration
HVAC Valves
Land Use Planning
Landscaping Fixtures
Landscaping Tools
Office Furniture
People
Plumbing Drains
Plumbing Fixture Symbols
Plumbing Pipe Fittings
Proofreading Symbols
Pumps & Turbine
Punch Carpentry
Punch Ceiling
Punch Cleaning
Punch Concrete
Punch Electrical
Punch Flooring
Punch Lighting
Punch Paint
Punch Plan
Punch Plumbing
Security & CCTV
Sequences & Actions
Steel Shapes
ASME Shapes
Trees
Valves
Vessels
Welding Symbols Complete
Windows
Pipe Takeoff
Plant Handling
Plumbing Valves and Input-Output Devices
Metric Bar Scales
Imperial Bar Scales
Basic Stamps
Site Management
Construction Road Signs
DOT Cones & Barricade
Civil Grade Markers
Grills
Flowchart
Construction Site Signage
Download Instructions
On the main UChapter2 home page, click on the Resources Menu.
Then click on Free Downloads. Here you will see a link to download FREE Bluebeam Revu Toolsets. While you're there, if you haven't already downloaded the free AutoCAD hatch patterns you can do that as well.

Click on the Free Toolset button.
On the resulting page, click on one of the CSI Divisions.
Fill out the resulting form with your name and email address and click the Download Your Free Tool Sets button.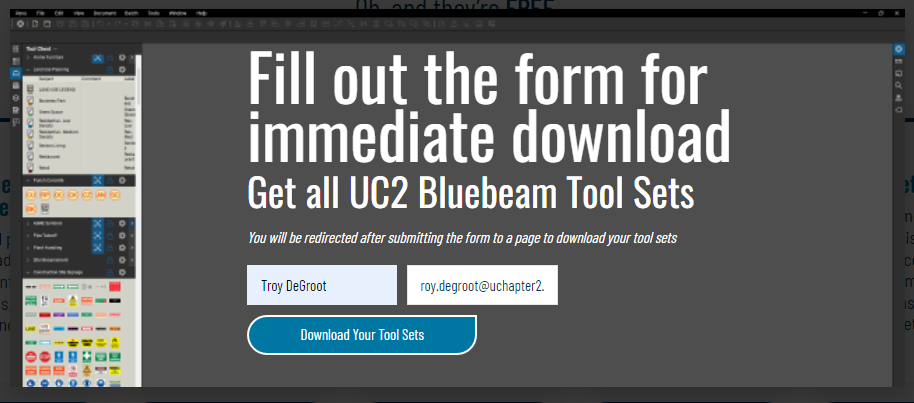 This will flip you to a Thank You page as a first step. At this point, you will also receive a confirmation email, but it will not contain the download, yet.
On the Confirmation-Thank You page, scroll down and click on the blue DOWNLOAD TOOL SETS button. You can also click on the Installation instructions button, but there will be a pdf with instructions inside the download zip file.

The download should only take 2 seconds. Move the UChapter2-Free-Bluebeam-Tool-Sets.zip file from your Downloads folder to a folder of your choice.
Extract all files from the zip file into the same folder.
Select the desired toolset .btx files using your Ctrl or Shift keys to select several at a time. Drag and Drop into the Bluebeam interface.
All your Free Toolsets are now imported into the Bluebeam ToolChest Panel. You will be asked to click OK on a "successful Import" window for each toolset.
Once loaded, go to Revu > Manage Profiles > Save Profile. This will ensure your tools are saved in your existing profile.
SUCCESS!!
See these steps in Video form and learn more about the functionality in this quick video.
---
I hope these tools are extremely useful to your everyday workflows and save you time, and build consistency within your team. Please share this blog post with your network so others can download and get the most out of Bluebeam Revu. Thank you!
If you need custom tools built for you or your company don't hesitate to contact me!